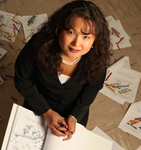 Kyung Hee Kim, Ph.D.
Dr. Kim, Associate Professor of Educational Psychology at The College of William & Mary, trains parents and teachers around the world to foster creativity in children. Numerous organizations have recognized her scholarly contributions: the Early Scholar Award from the National Association for Gifted Children (NAGC, 2011), the Berlyne Award from the American Psychology Association, the New Voice in Intelligence and Creativity Award (2009), the Hollingworth Award from NAGC, and other research awards from: Eastern Michigan University (2008), NAGC, the American
Creativity Association (2005), and the International Council of Psychologists (2004).
She is frequently featured in national and international news outlets, among them The Washington Post, The U.S. News & World Report, The Wall Street Journal, Newsweek, The Metro World News (England). Superinteressante (Brazil), Periodista La Tercera (Chile), Korrespondent (Ukraine), The Globe and Mail (Canada), and others.